The Commemoration of the Birth of St Mary
The First Day of Bashans (May 9)
Today, on the first day of the Coptic month of Bashans, we celebrate the birth of the Virgin St Mary. It is the second of the Seven Feasts of St. Mary. The beloved Mother of Jesus Christ was born to St Hannah (St Ann, in English) and St Joachim. For many years they had long prayed to God for a child, even as they grew older, for they trusted that with God, all things are possible.
And God did indeed have them in his plans, and when the time was right, the Lord sent an angel to announce to Joachim in his sleep that he and Hannah would soon have a child, a child so special that the salvation to mankind would come through their offspring.
When Joachim told Hannah of the visit of the angel in his sleep, she gave thanks to the Lord, and promised that the child to be born to her would be consecrated to God, and serve in the house of the Lord.
Later, when this child was born, Hannah and Joachim named their newborn daughter Mary. God in Heaven must have smiled when this special baby was born, for He knew that she was the one He had chosen to someday become the mother of our Lord Jesus Christ, giving human form to God, and that He would bring the offer of salvation to all people.
As a child, the young St Mary was dedicated to the temple, and grew in her purity and holiness. The day came that God sent the Archangel Gabriel to her to announce that she was blessed among women, and that she had been chosen by God to be the mother of His incarnation on Earth. She became the mother of Jesus Christ, through Whom she also became the most well-known and beloved woman in history.
May her intercession be with us, and glory be to God forever and ever. Amen.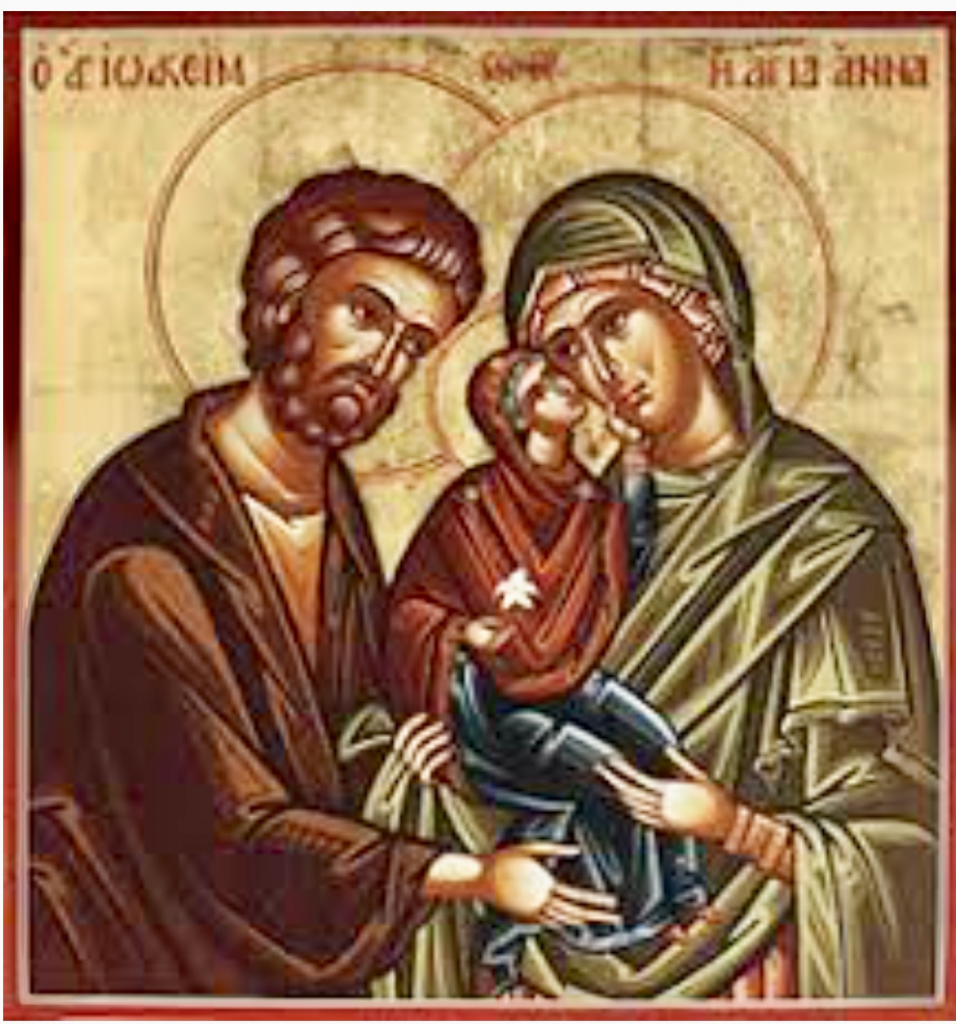 A Byzantine icon of the young child St Mary, held by her parents, St Hannah and St Joachim. Mary is shown not so much as a child, but a miniature adult, a symbolic way of reminding the viewer that it is the role as an adult for which the baby is known.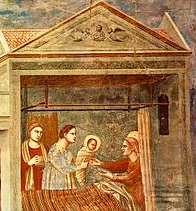 "The Birth of the Blessed Virgin Mary" by 14th century Italian artist Giotto. The newly born and swaddled infant St Mary is handed to her mother, St Hannah, by attendants to the birth.